Laborers Local 332 has a long standing tradition of helping and working in the Philadelphia community. Our members not only bring an outstanding work ethic to employers and jobs that we work. We also bring our strong work ethic to a community that we serve. So while one can always read negative stories about youth involved in activity detrimental to the community by way of crime and drugs; our members at Local 332 have always sought to be a positive force that inspires and motivates others. We learned this from our late great Business Manager, Sam Staten Sr. who carried this tradition of helping over to his son, current Business Manager Sam Staten Jr.
So it comes as no surprise at all that we have a relatively new committee in our Hall that seeks to m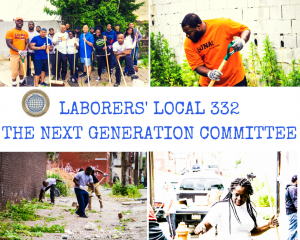 ove under this same tradition of helping others. The 'Next Generation' Committee is comprised of young men and women in our Hall that have decided to take up the banner of service to others. Recently, the Next Generation Committee converged on an area around 9th and Venango in North Philadelphia and put in some serious work!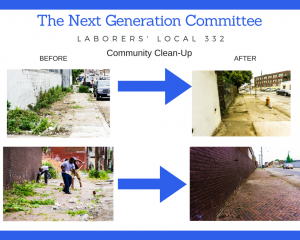 Please take a look at the picture gallery below and come join the effort! As a Union member, we are a part of something special at Laborers' Local 332. Let's give back by joining a committee like the Next Generation committee and be a part of a long tradition of helping our community!
Save