The Emergency Relief Fund Committee works to help our members who have fallen on some tough times by way of a tragedy. The loss of a home due to fire, death in the family, or other extreme circumstances of hardship. We want to be there for our members in times of difficulty and loss! Support the Emergency Relief Fund Committee by purchasing one of our custom made bandanas!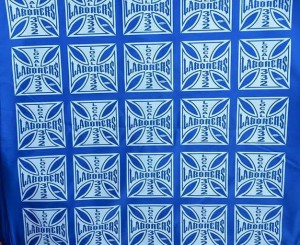 These bandanas are going for $7 and proceeds benefit our Emergency Relief Fund…get your bandana today. Contact Mr William Rice by email at webone430@hotmail.com, or get one right at the dues collection window down the Hall. Call 215-765-6272 for more info.
Support the Emergency Relief Fund Committee. Today, we had a wonderful flea market to raise funds for the committee. Take a look at some of the pics of this successful market and stay tuned for more events to help our fellow members!