From Left to Right: Mr Tony Lewis, Consultant, Mr Walter D Palmer, President, Mr Sam Staten Sr, Retired Business Manager-Local 332, and Mr Sam Staten Jr-Business Manager-Laborers' Local 332
The Walter D Palmer Leadership Learning Partners Charter School at 910 North 6th Street in North Philadelphia has initiated a "Literacy through Mural Arts' program that adorns the school's walls with murals of men and women who have made contributions to society. The portraits, painted by Philadelphia artist-Calvin Jones, offers students a visual connection to wide range of historical, social, and political luminaries who have made significant contributions to our society.
Among the many murals in this school, three of the murals are of special note to our members at Local 332! The walls are adorned with the Local 332 Icon and former Business Manager, Sam Staten Sr, current Business Manager Sam Staten Jr, and special consultant Tony Lewis.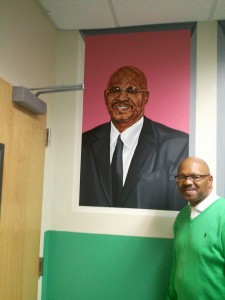 The inclusion of these men are a testimony to the historic contributions of Laborers' Local 332 to our community. As Business Manager, Sam Staten Jr noted: "The murals are not just about me or my father, its about all of us here at the Local and our impact on society"
here